BOZO Meets: Denis Magro
TLDR: Fashion photographer Denis Magro sits down and talks us through his creative process: his love of greyscale, nature and the female form. Make sure to check out his insta when you get a chance.
Ciao Denis! Where are you from?
I live in Treviso in Veneto.
When did you realise that you had a talent for photography?
I have always been fascinated by creativity and art ever since I was a child. I think I had familiarised myself with the camera by around the age of ten.
What advice do you have for any photographers starting out?
To only start if you are driven by passion, true passion. You have to have something to tell, emotions to be transposed. There is no advice for a road without signs, photography it is part of the art, and as such, it is often without indications. You must listen to yourself first, your technique cannot be the only weapon available, on the contrary, the technique is nothing without style behind it.
And style cannot be learnt, it is acquired day by day, over years, forever evolving. Personally, I recommend to simply be humble and curious about the world and the people around us and observe your natural reactions from there.
Speaking of your work, you do a lot of fashion photography – how did you get into that?
Through humility and curiosity, it is a particular world, which is difficult to access. Be ever-present and you will eventually become a part of it.
You have also explored theatric photography – talk us through how your approach differentiates when trying to encapsulate it?
I approached stage photography a few years ago, it was born all by chance, or maybe not...
I met a choreographer from Abruzzese at the theatre – a profound one from an artistic understanding. From there I began a project that relied on the symbiosis between us, theatre and photography. I was born, and will always remain "artist", you can see it in my shots, in which I always search for depth, emotionality, and so I tried to do this in the theatrical space. Trying to give plasticity to bodies through shadows; there is a big difference between fashion and theatre photography, especially for the timing and the light. There has to be a very high speed of thought so that the shot is technically and artistically correct. It is not easy to explain such an inexplicable thing.
You use a lot of greyscale in your work, what do you think greyscale can achieve instead of other effects?
I often use black and white in my photography, I will explain why with a metaphor:
That feeling when there is no need to talk to another in order to express something. When silence or a gesture is much more significant. For me, this means the use of black and white. A silence, a look, there are no colours that influence your evaluation, only games of shadows and lights, the power it can have is incredible, and the message is made essential to the eyes.
Can you share with us one of your favourite shots? Why?
One of my favourite shots is Pride Mask, part of the 2015 "Pure Temptation" collection – an exhibition which opened at the Portaportese Theatre in Rome. I find this shot very representative and essential to the photography that I love to create. The black and white, the female body, the metaphors, and the background, are always a fundamental part of my photographs. It will always remain an icon that will accompany me on my artistic path. An iconic, evocative, and timeless image.
Who has been your greatest inspiration for your work? Why?
It isn't one sole individual, but rather a continuous flow of arts, artistic currents, artists, and emotions. Because before photography, for me first comes my love of art. Two exhibitions I saw a long time ago completely opened up my heart to art: one of Monet and the other Van Gogh.
The colours of Van Gogh are forever etched in my mind, I love the leadened skies in contrast to the rest. The surrealists are a deep well of inspiration for me, their works has always given me space to wander into them. I like to create works of this kind, those which provide me with the chance togo beyond the collective imagination, and create contexts and atmospheres that do not exist in reality. This very fact of creating new and non-trivial things is what I love most.
From Dali to Magritte, to the works of Man Ray to Rodney Smith and Jerry Uelsmann, I have taken inspiration from everywhere.
My love of fashion photography has certainly been exacerbated by the work of Jeanloup Sieff: one of the most elegant artists. Guy Bourdin, another artist I respect for his fashion shots – the way he used colour is still to this day incredible. Above all though, his obsession with the woman in photography, which I have a strong affinity with, has influenced me greatly.
The transition to my personal taste can be attributed one of my cornerstone photographic pillars: Helmut Newton. A maniacal genius and devout follower of the belief that the devil is in the detail. This photographer has made excellent work and, to me, is without doubt the greatest fashion photographer ever. Although progressive, his works are timeless and after many years remain more current than ever.
My other pillar, and my personal favourite, is David LaChapelle. A god amongst men in fashion photography whom I hold close to my soul. His works are extraordinary and have gone far beyond mere photography, they are real artistic constructions, a complete synergy between tangible art and photography – nothing is left to chance in his works. Behind each is meticulous preparation, methodology, and a supreme holistic/artistic vision. He is the artist of the century and has changed the way of interpreting both fashion and advertising photography – one of the few who manage to combine commercial photography with the creative. 2017 was a wonderful year, I was able to meet David and listen to him explain his own artistic path, it was really exciting. An important experience to be treasured, and a reminder to never stop learning.
And not to forget Ellen Von Unwerth, who is also a great hero and fashion photographer of mine.
How do you feel about social media's effect on photography? Is it a vital part of being a photographer today?
Undoubtedly technological development and the birth of social media have led to a revolution in regards to photography. Today it is practised as a both as a profession and as a hobby on a mass scale and, without a doubt, it has led to a saturated market. We have come to have a completely different relationship with the photographic medium: once hardly anyone had a camera, now practically everyone does thanks to the smartphone. The ease of use has also increased thanks to automation whilst the cost has reduced since the decline in film. All of this has produced a tsunami of images that have flooded the online space.
However, fortunately, everything has a negative, but also positive. And we must always aspire to the second! In fact, I can say that the favourable part concerns visibility and interactions. The internet allows incredible artistic and cultural exchanges, and promotes more work to larger audiences than ever before. Not only that, the method of marketing and advertising is much more intuitive and nuanced and gives you the possibility of targeting very specific audiences.
The thing that I love most, however, is certainly the "human" interaction, or rather the vastness of possible connections, from which to establish relationships and collaborations. How would I have contacted an agency 10 years ago rather than through a model? Or how would they find me? Now it's beautiful and exciting to be able to do it. Internet and social media, when used with a the right frame of mind, are wonderful tools!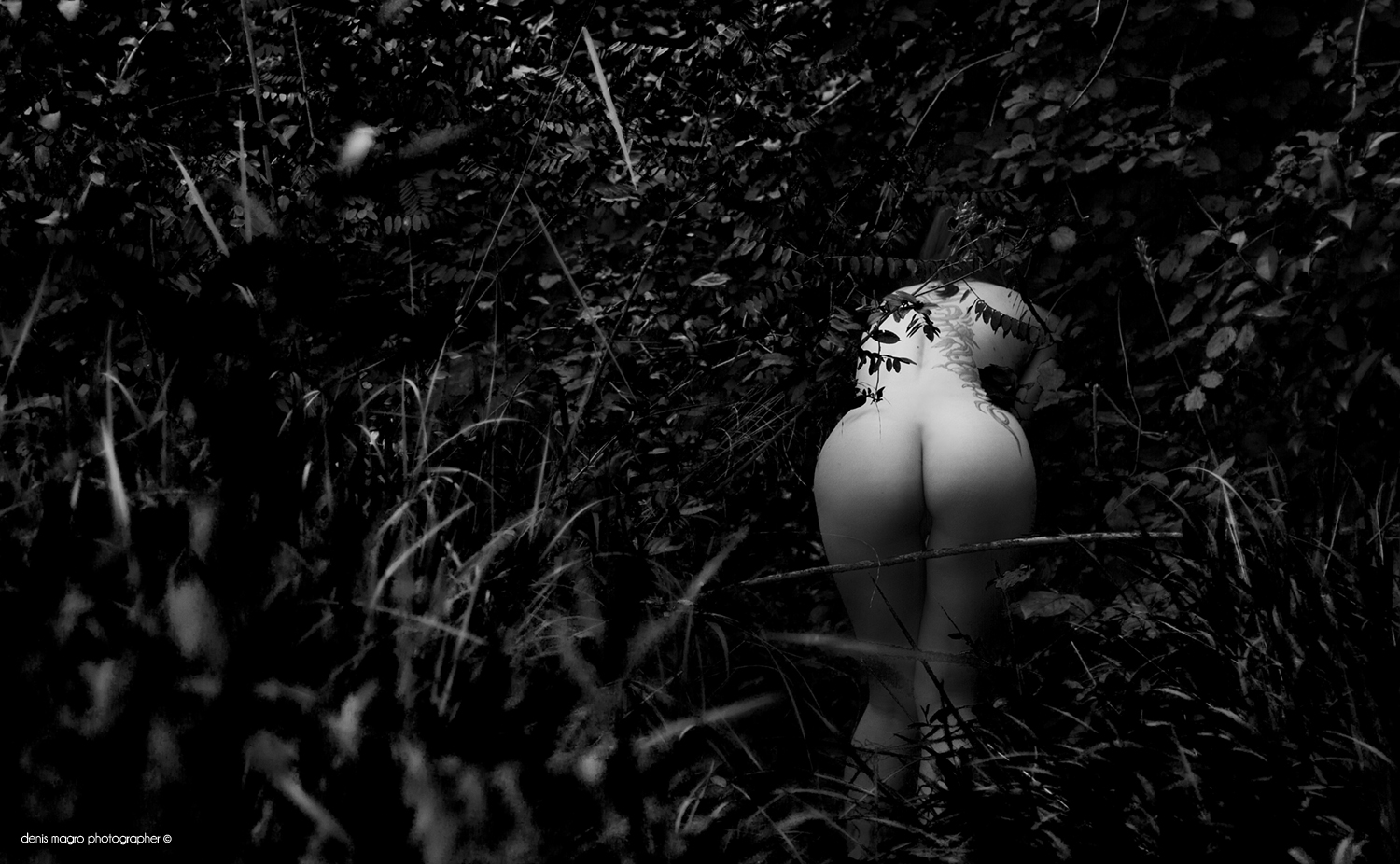 Nature seems to be just as much a protagonist in many of your shots of the female form as the female models themselves – what is your thinking behind this?
I love nature deeply, there is nothing I love more! And you can see in fact from my photographs, I never shoot in a studio. I like being able to make the shot complete. The choice of location is as important as the model, the two must come together in my idea of photography, it cannot be there always just a simple neutral background, for me the background is integral.
The viewer must immerse himself in every detail and not only in the subject, nature, therefore, is often present, and also the peripheral areas, industrial areas, rich in particular architecture.
Nature and woman, are of the same sex, are the same thing there are two apparently distinct identities, but the truth is that I am one all, so why keep them distant?